Life after Loss- A Rainbow Baby Photo Session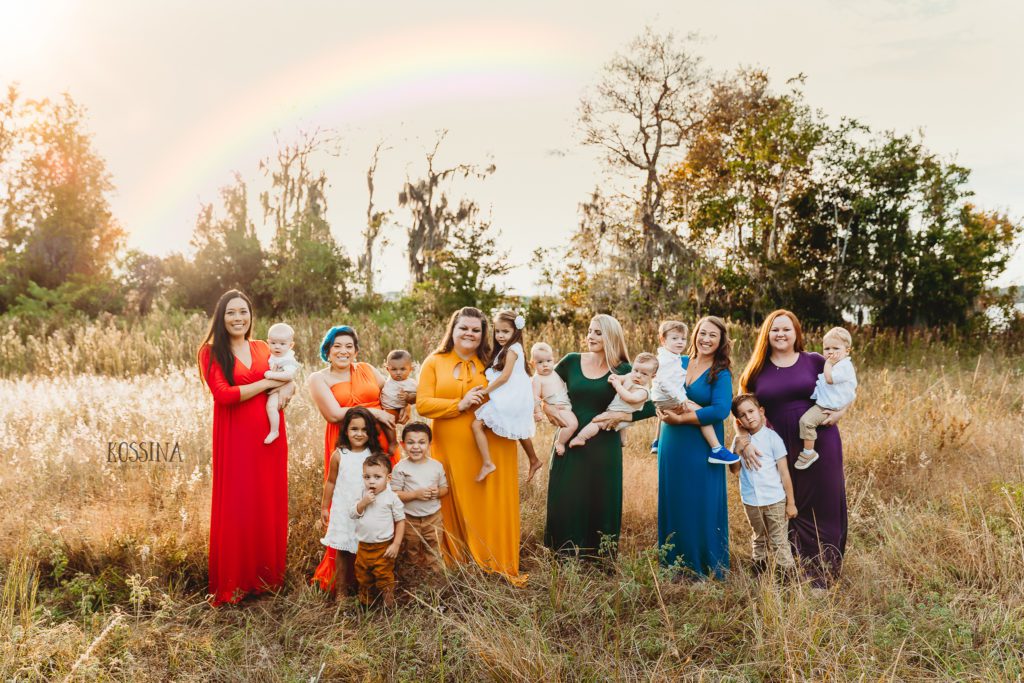 As an Orlando newborn photographer, one of the most rewarding experiences is connecting with new parents during their newborn sessions. While chatting during their session I get the opportunity to watch them interact with their child and hear their journey to parenthood.
Though I've never personally suffered the loss of a child, I always feel this huge tug on my heart when I hear my clients tell me of their loss. I know that this session is even more meaningful for them and to have the privilege of watching their expression after photographing their rainbow baby is something I just can't explain.
Tragically approximately a million pregnancies a year in the United States alone end in early pregnancy loss, stillbirth, or the death of a newborn child. According to the American College of Obstetricians and Gynecologists, studies reveal that anywhere from 10 to 20 percent of all clinically recognized pregnancies will end in early pregnancy loss. If fetal death occurs after 20 weeks of pregnancy, it's considered a stillbirth. These tragic losses occur in about 1 in 60 pregnancies. As many as 1 in 4 known pregnancies end in miscarriage, also known medically as spontaneous abortion.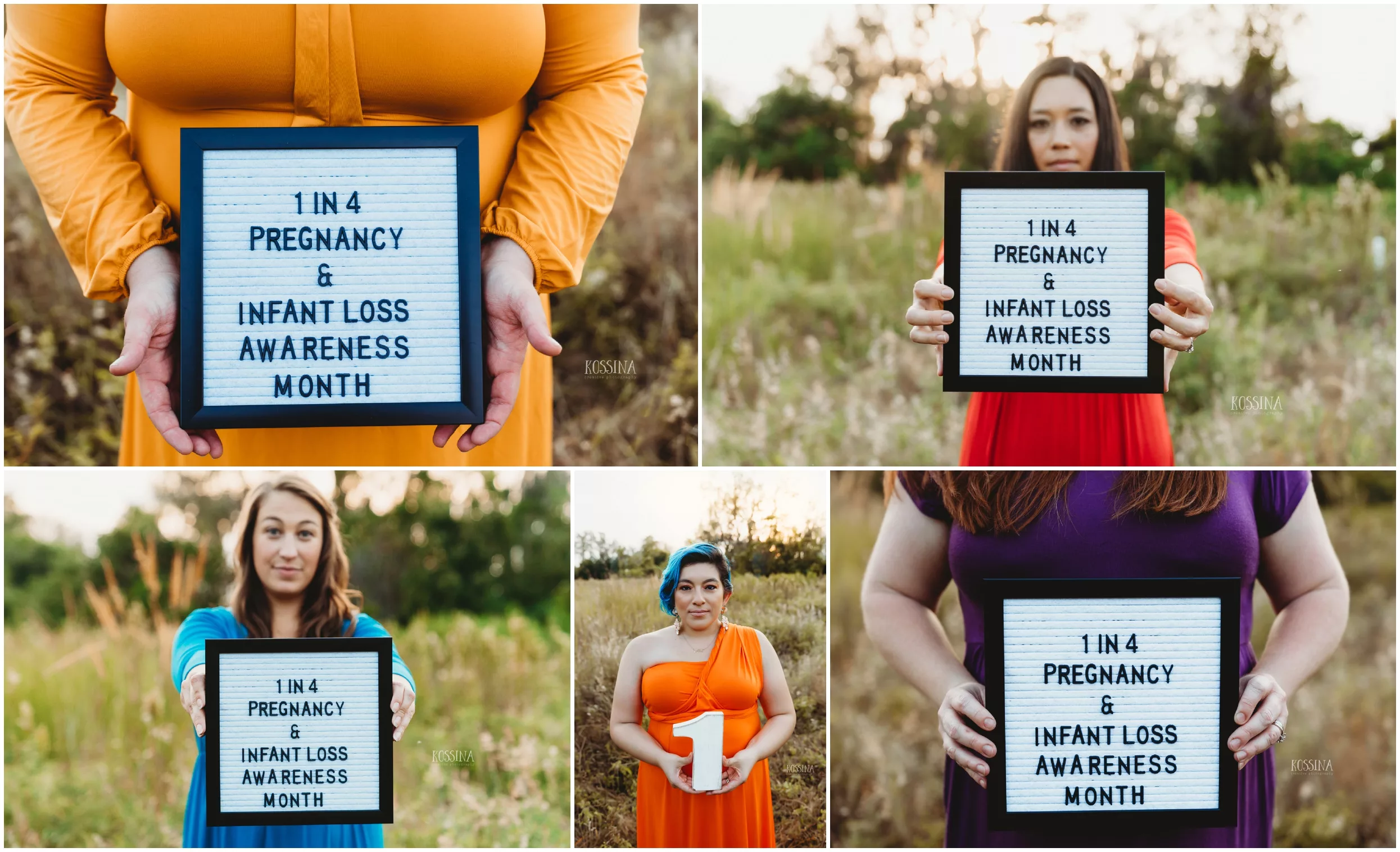 On this day, October 25th, 1988 President Ronald Reagan designated the entire month of October as Pregnancy and Infant Loss Awareness month. In 2002, Robyn Bear, Lisa Brown and Tammy Novak petitioned the federal government to proclaim October 15th Pregnancy and Infant Loss Awareness Day.
I had never heard the term rainbow baby before starting my journey as a newborn photographer. I didn't realize how many women were afflicted with this pain. 1 in 4 women suffer a loss.
Knowing what I know now, I wanted to celebrate these amazingly strong women and their rainbow babies by sharing their stories and spreading awareness to a subject that I feel is often considered taboo.
Meet Patty
I met Patty through mutual friends who had come to me for their newborn photos. During her newborn session, she mentioned that her son Kai is a rainbow baby, so we were sure to do a few setups to celebrate him.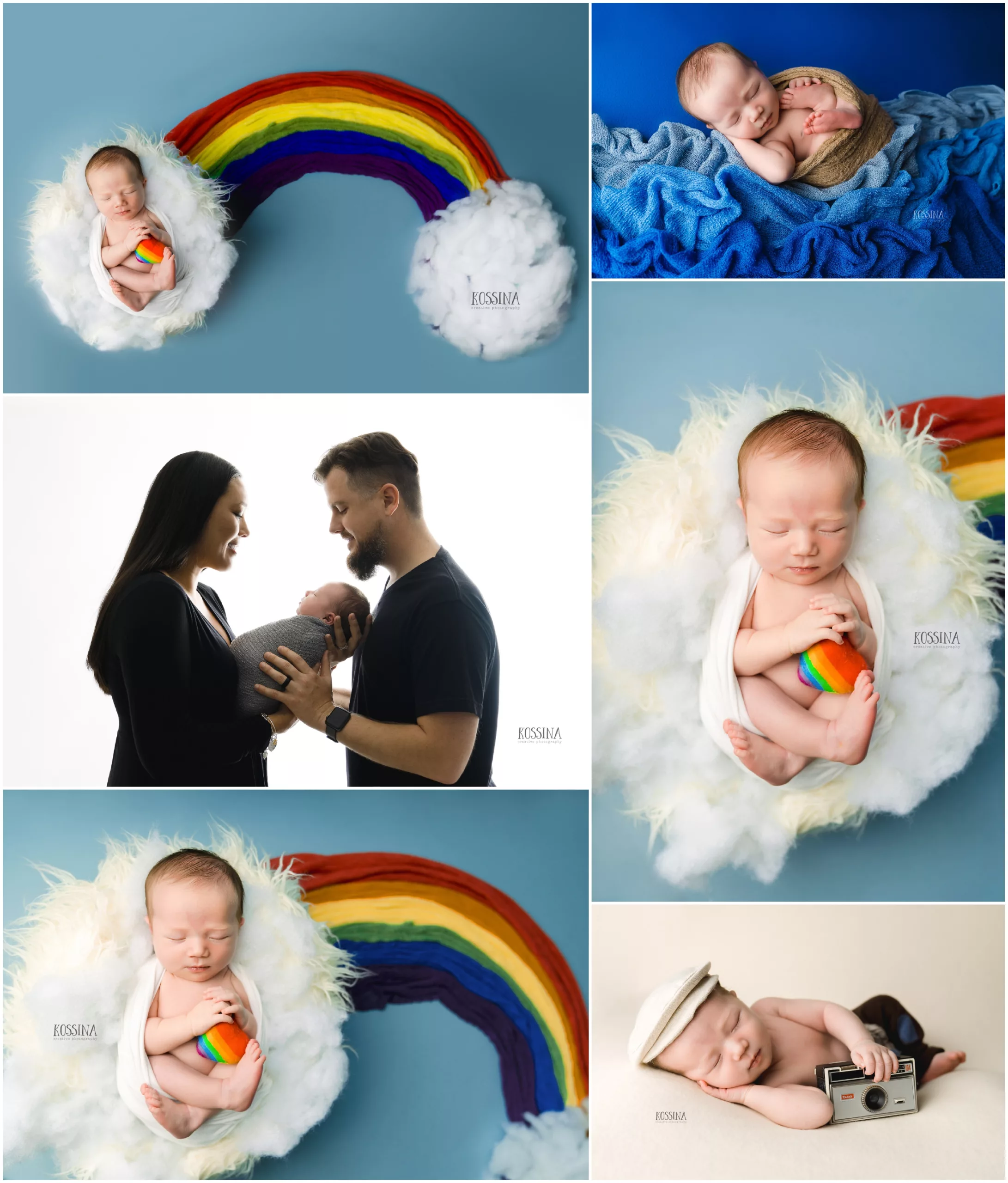 Here's Patty's story:
We found out really early the first time around. I had one loss and was about seven weeks at the time. As early along as I was, when it happened we didn't have any sort of closure besides an empty sonogram at what should have been eight weeks. I was still suffering emotionally for a few weeks after and we found a way to remember and honor what we had. My husband Chris found a small little statue and made a sweet card for me. He also got a candle and a water lantern that we sent off into the pond behind our home.
We said words of love to our baby and said, "you may no longer be here but you will never be forgotten." It helped us so much in the healing process. My husband Chris was there for me from the beginning, just talking about it helped. Bottling up your feelings makes it worse.
When we found out that we were pregnant with our rainbow baby we were both very happy and cautiously optimistic. We created a video to announce to our friends and family on social media and had a gender reveal at Thanksgiving last year with the family. We had everyone take a guess as to what we would be having and my sister got confetti tubes with the color. It was BLUE! Our son Kai is 4.5 months old and is such a joy. The special bond we have between each other…I'm just amazed that I had this little human in my belly for nine months and now he's growing so much and learning from us. We are so in love with him and love watching him learn new things every day.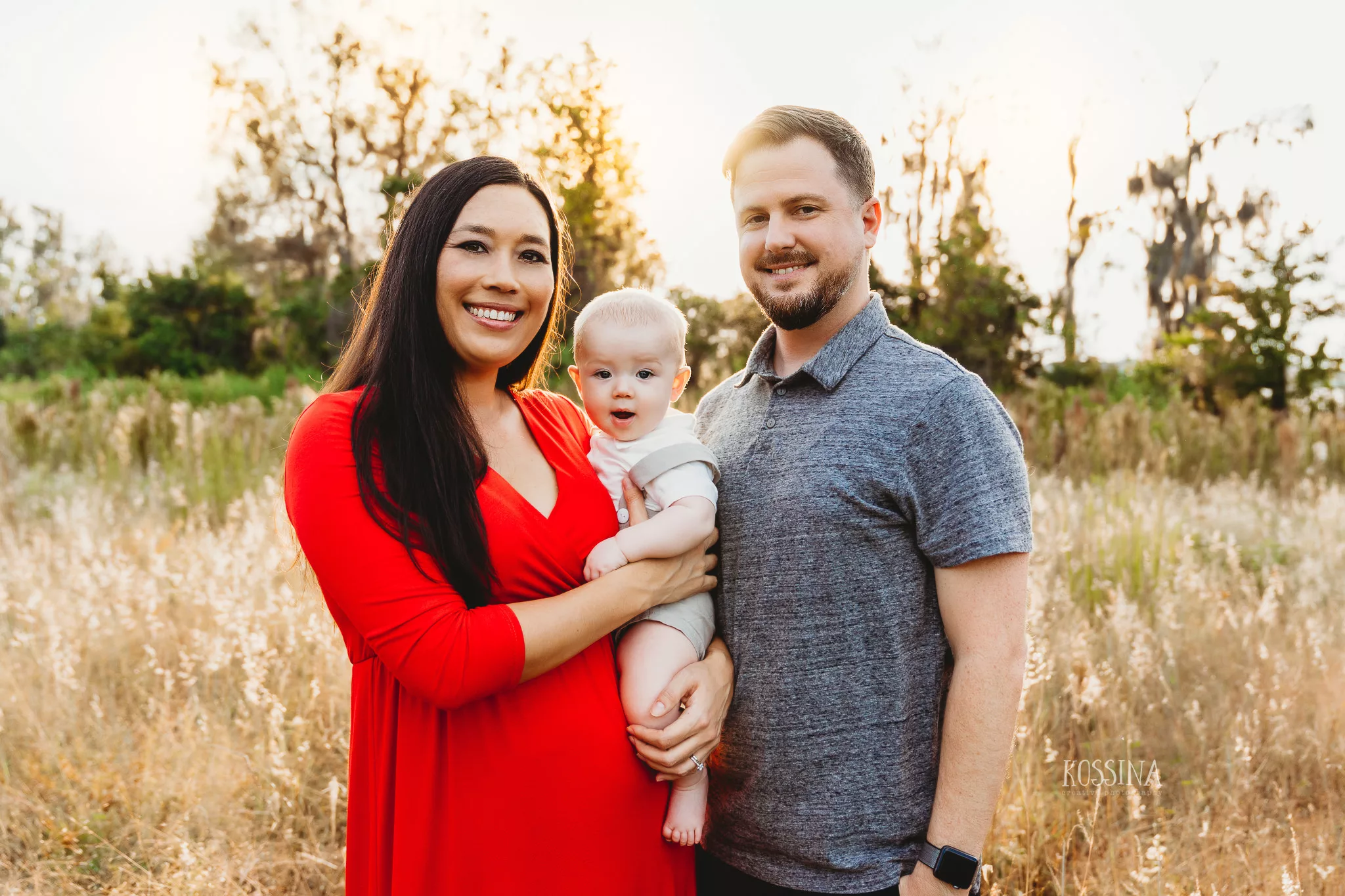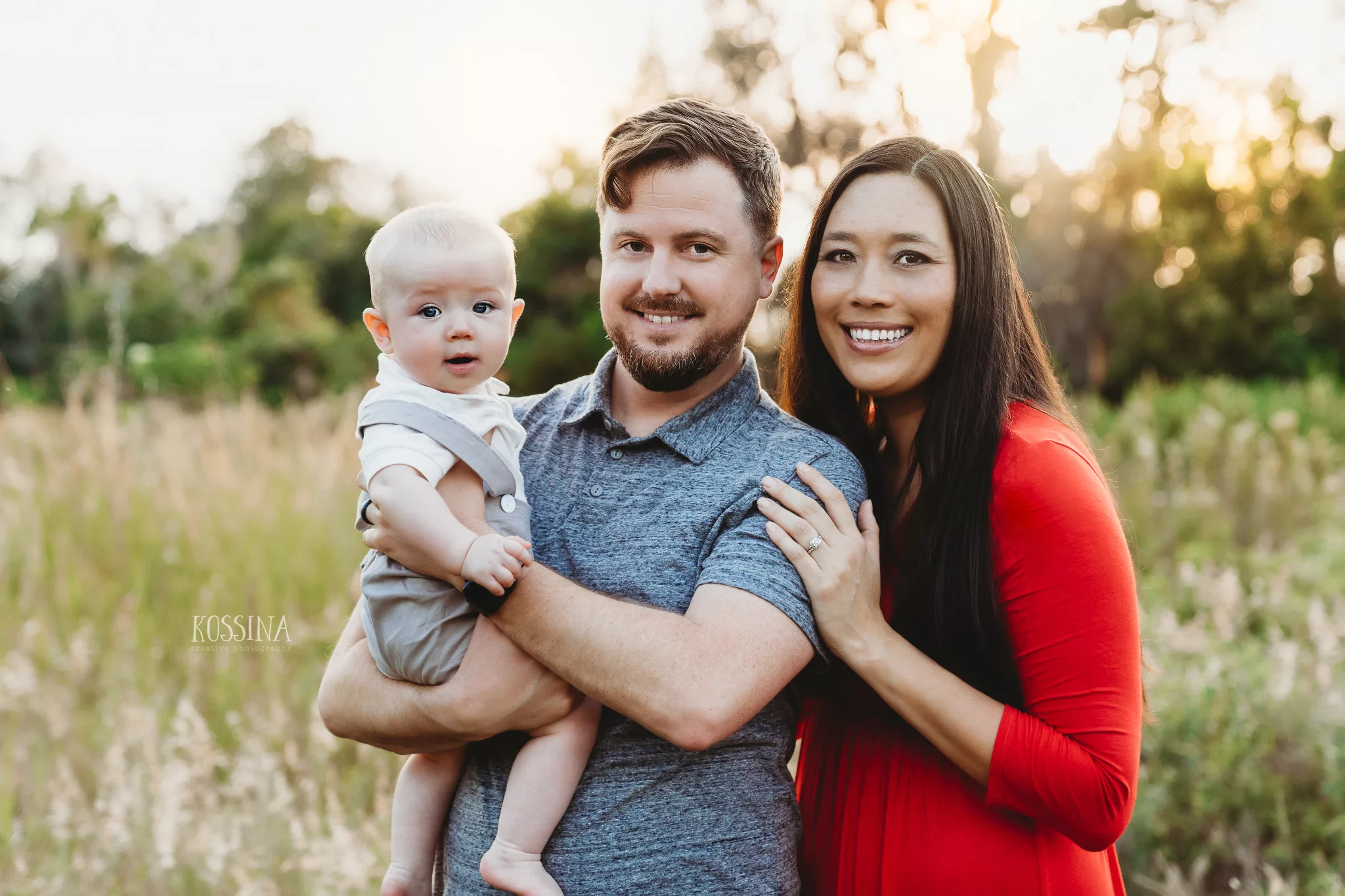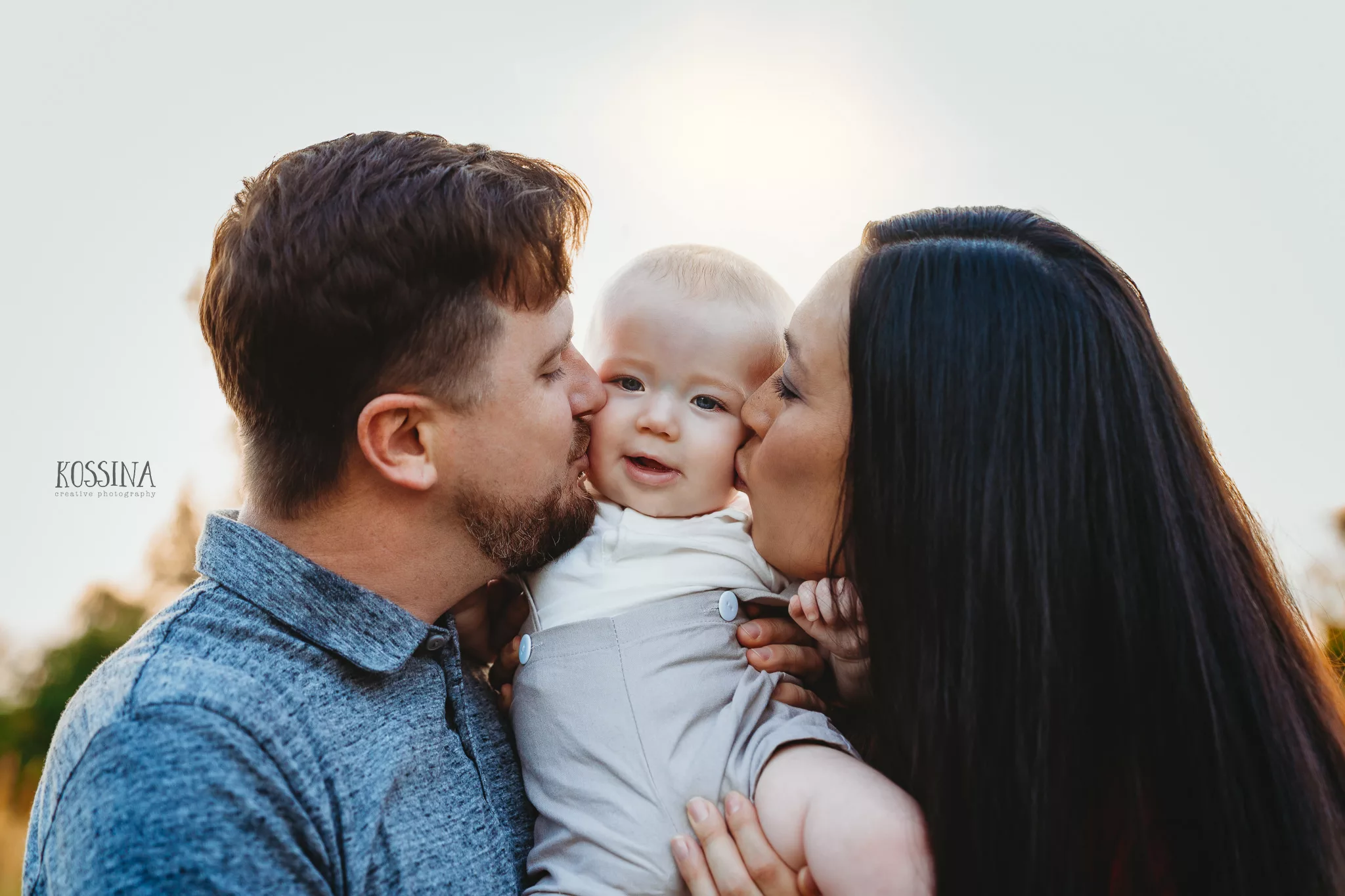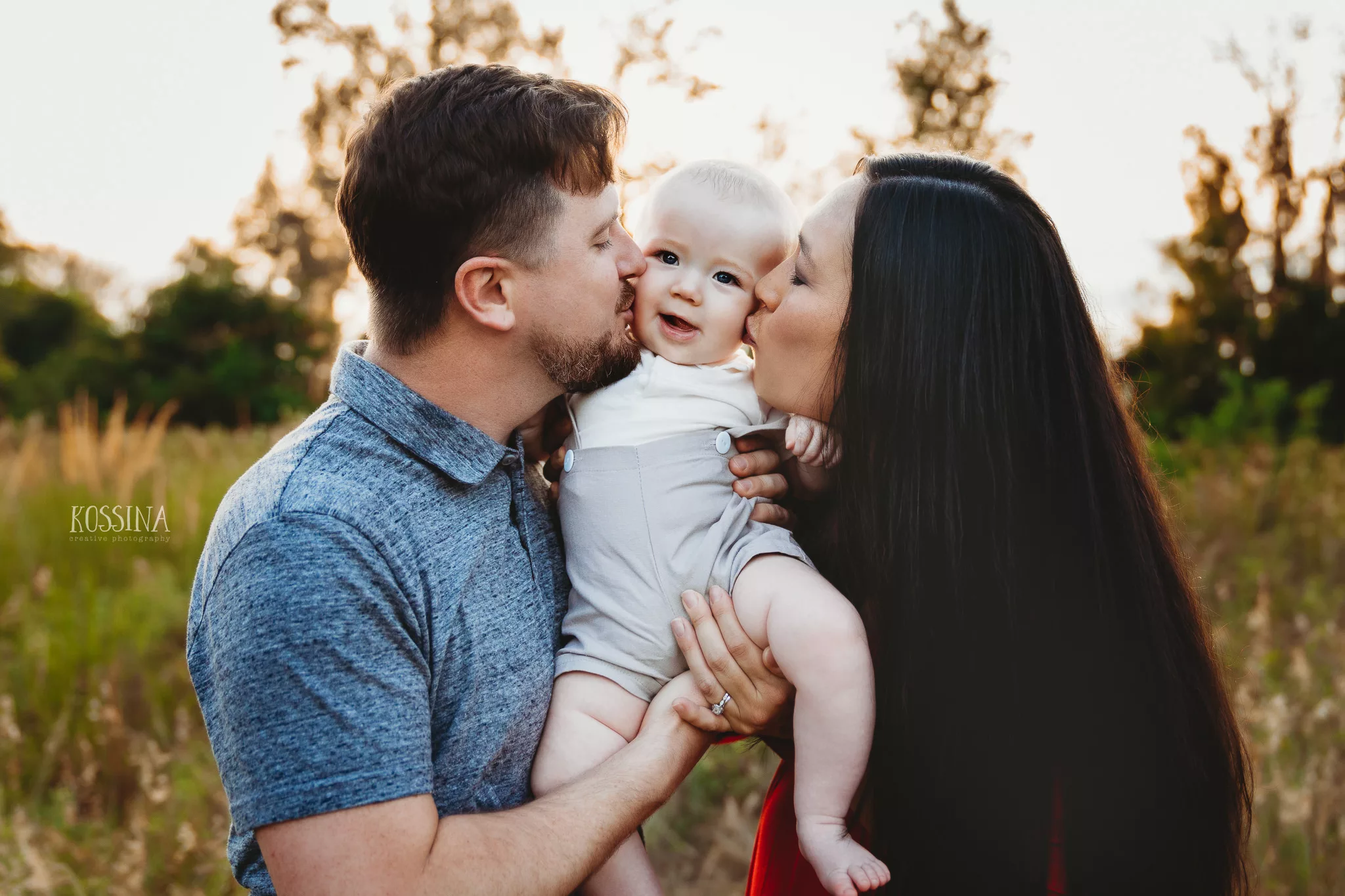 ---
Meet Kim
I met Kim in high school and we reconnected a few years ago when I had a booth at the Prego Expo. When I think of a super mom, I think of Kimberly, not only does she have four kids who are four and under, but she also runs a successful blog Lipstick and a Baby as well as hosts The Rebel Mami podcast. I had the honor of doing her newborn session for her and her husband Josh's fourth baby, Jonah.
Here's Kim's story:
I was 10 weeks when I lost my first child. I don't really know why. Part of me feels like it's my fault. It hurt for so long, but in all honesty what got me through it was my close friends who knew and my faith in God. It was so hard. I didn't even tell my family until years later. Sometimes we may not know why we go through things but even if we don't know the reason right away, we will eventually. Even if that question goes unanswered, our story was meant to help someone else.
My husband Josh had been working overnights, and I went to Walmart and grabbed an 88 cent pregnancy test. I didn't see myself spending $15 on a test if I wasn't going to be pregnant. So, I drove home, took the test, waited three very long minutes and BAM! Two lines! So…what did I do next? I got back into the car and drove to Walgreens and spent $15 on another test. BAM! Two lines! I surprised Josh when he got home that morning.
Our rainbow baby Valencia Valentina will be five years old this December. It's funny after I hit the 12-week mark, we invited our immediate family to Cracker Barrel. I had envelopes with the announcements in them. I gave them to the manager to give to the waitress and asked them to pretend there was a promotion going on. The waitress played along and announced that inside the envelope was a promotional coupon as she passed them out to our family. They were told not to open them until she left the table. Well, once she left everyone opened their envelope and screamed excitedly!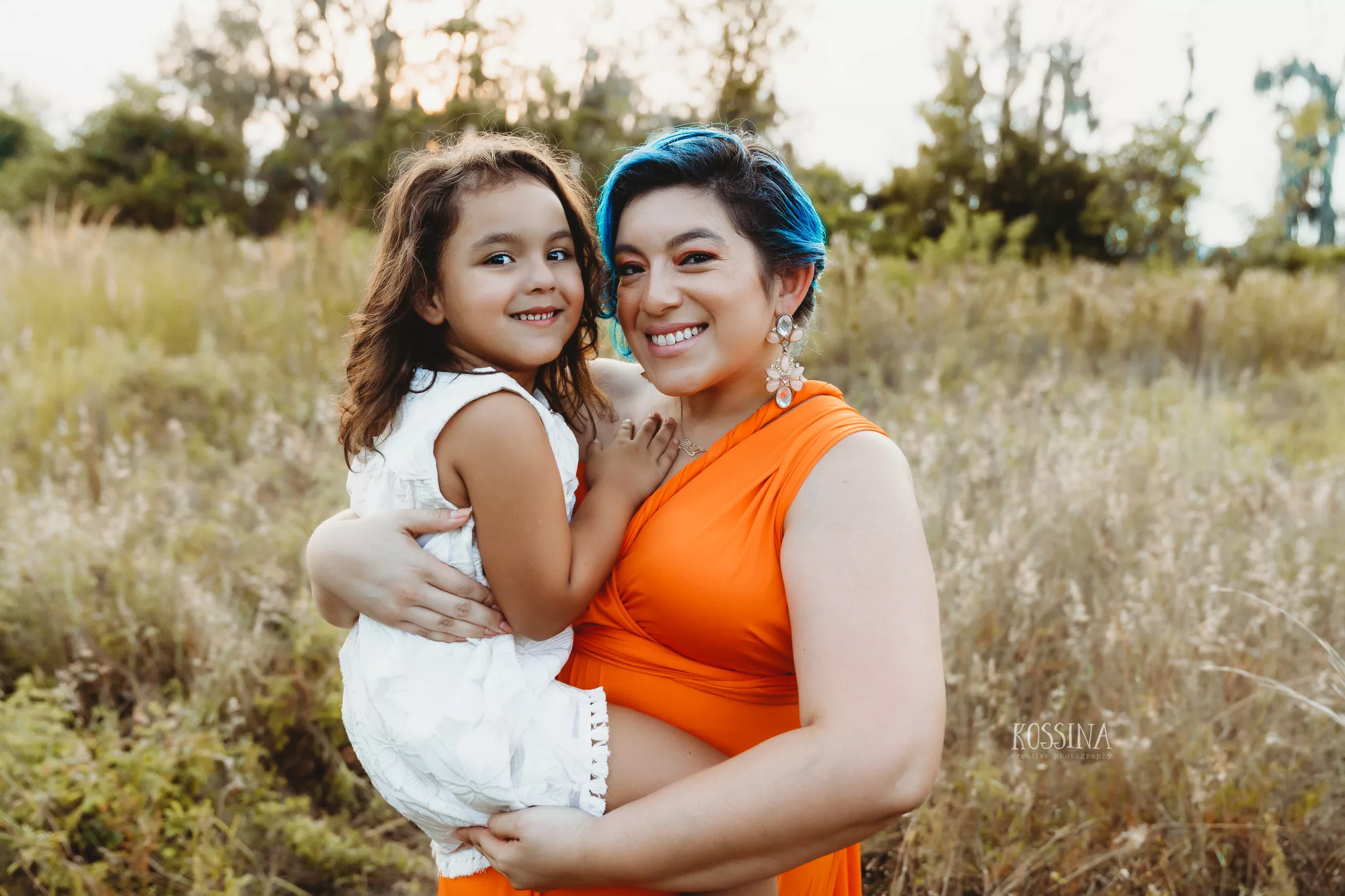 I have 4 beautiful and bright children now. My advice to women who have been in my shoes is to not feel ashamed and to share your story. We are not at fault. Don't hold your emotions in. Cry, vent to someone, but by sharing our story we can help someone else who is going through it. Remember, you GROW through what you go through.
Meet Sara
Though Sara and I went to high school together, I never met her personally. However, we had a lot of friends in common. When my friend Meghan told me about everything she had endured, I knew she had to be part of this passion project.
Here's Sara's Story:
I have four angel babies. I loved them all instantly and intensely from the very beginning. Our first loss was attributed to a subchorionic hemorrhage, and each following loss is a combination of hormone imbalance (PCOS) and MTHFR, which is a blood clotting disorder.
Over the last six years and four devastating losses, I still struggle to this day. I have found comfort in music, volunteering, writing, seeing a counselor and making jewelry. I create bracelets to honor the children we've lost and other various causes that are important to me in my Etsy Shop. I also attend the Now I Lay Me Down to Sleep Remembrance Walk each year. I find incredible strength in my husband. I have learned that it's ok not to be strong all the time. Never forget that no matter how dark and hopeless you may feel, it WILL be ok.
My story is unique in regard to the women standing beside me in these pictures. Our rainbow baby was sent to us through the miracle of adoption. My husband and I found out about the birth mother's pregnancy just three days before she was born.
When we were presented with the possibility of adoption, my husband Kenny and I were scared and unsure if it was even possible for us to go through with it at that time in our lives. In the beginning, we didn't know details, a due date, disabilities, or anything related to this baby and it was overwhelming, to say the least. We prayed about it and we got a sign almost immediately. I will never forget that look on Kenny's excited face as he said: "well, it looks like we're gonna have a baby!"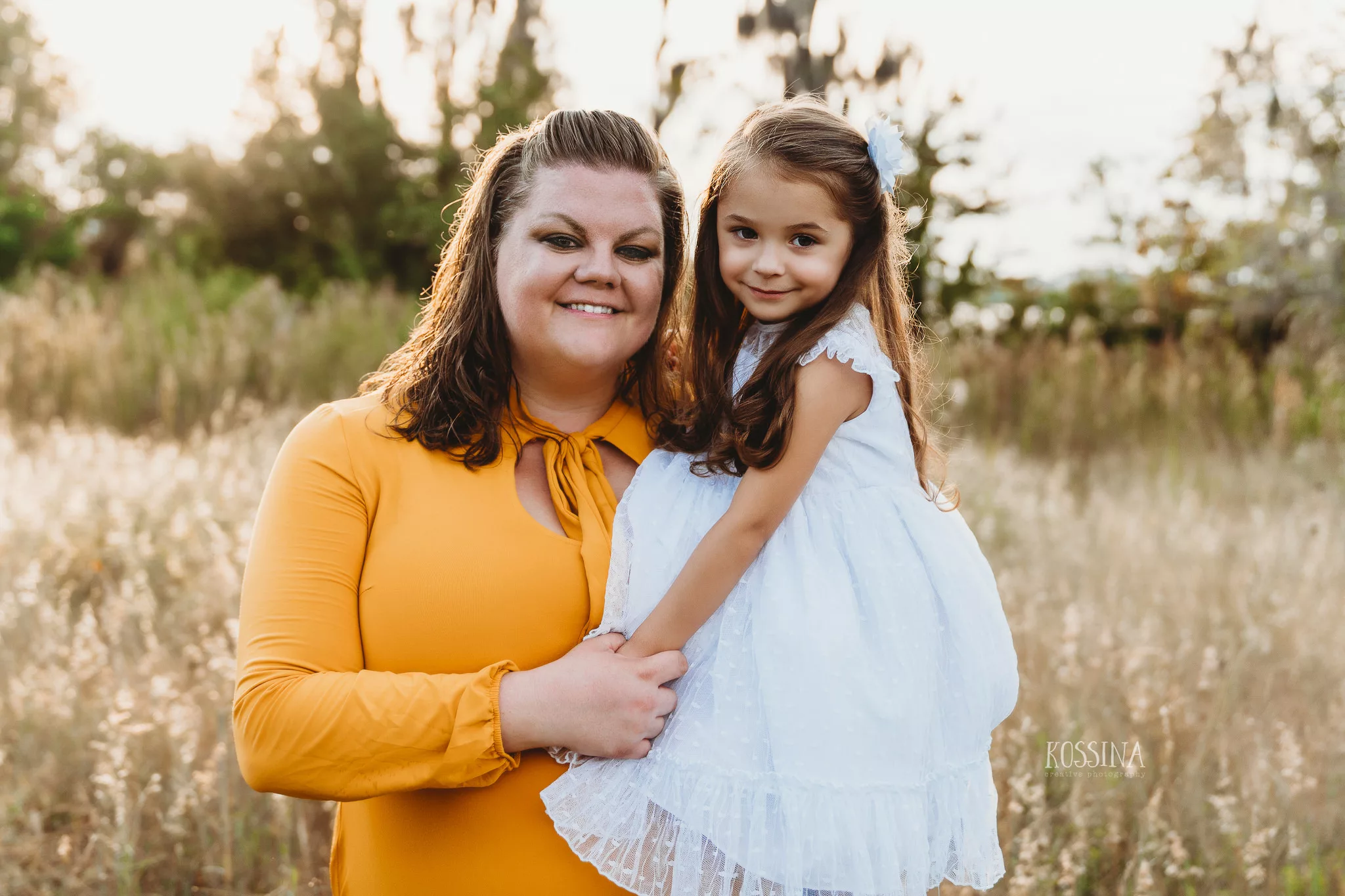 Our daughter Scarlett is now four years old and she is our warrior. She was born three months early and was rushed to the NICU in very serious condition. She was tiny but boy was she fierce! She is incredibly strong-willed, sweet and loving, funny and so smart. My favorite part of being her mom is snuggle time. She was made for my husband and me.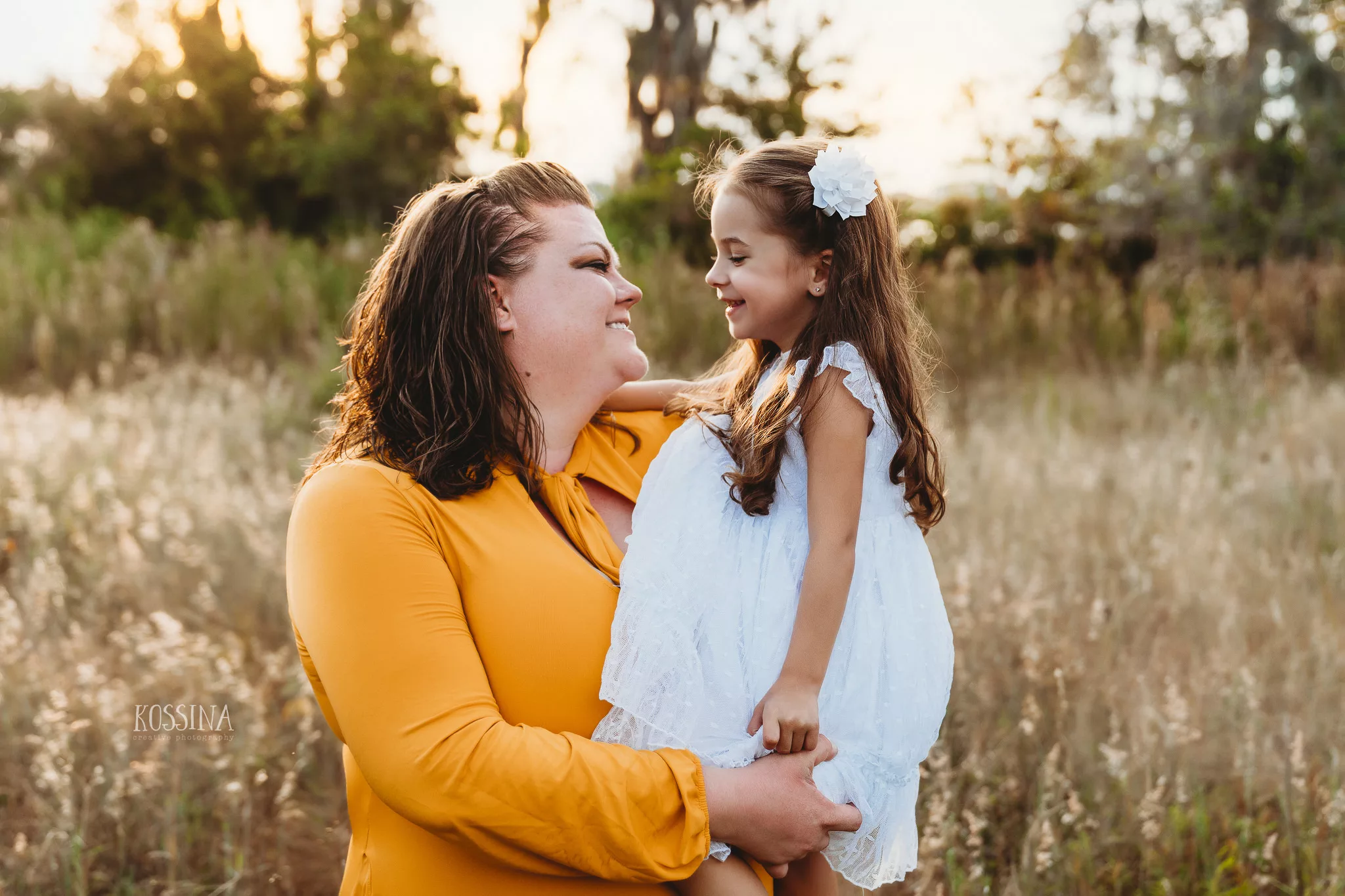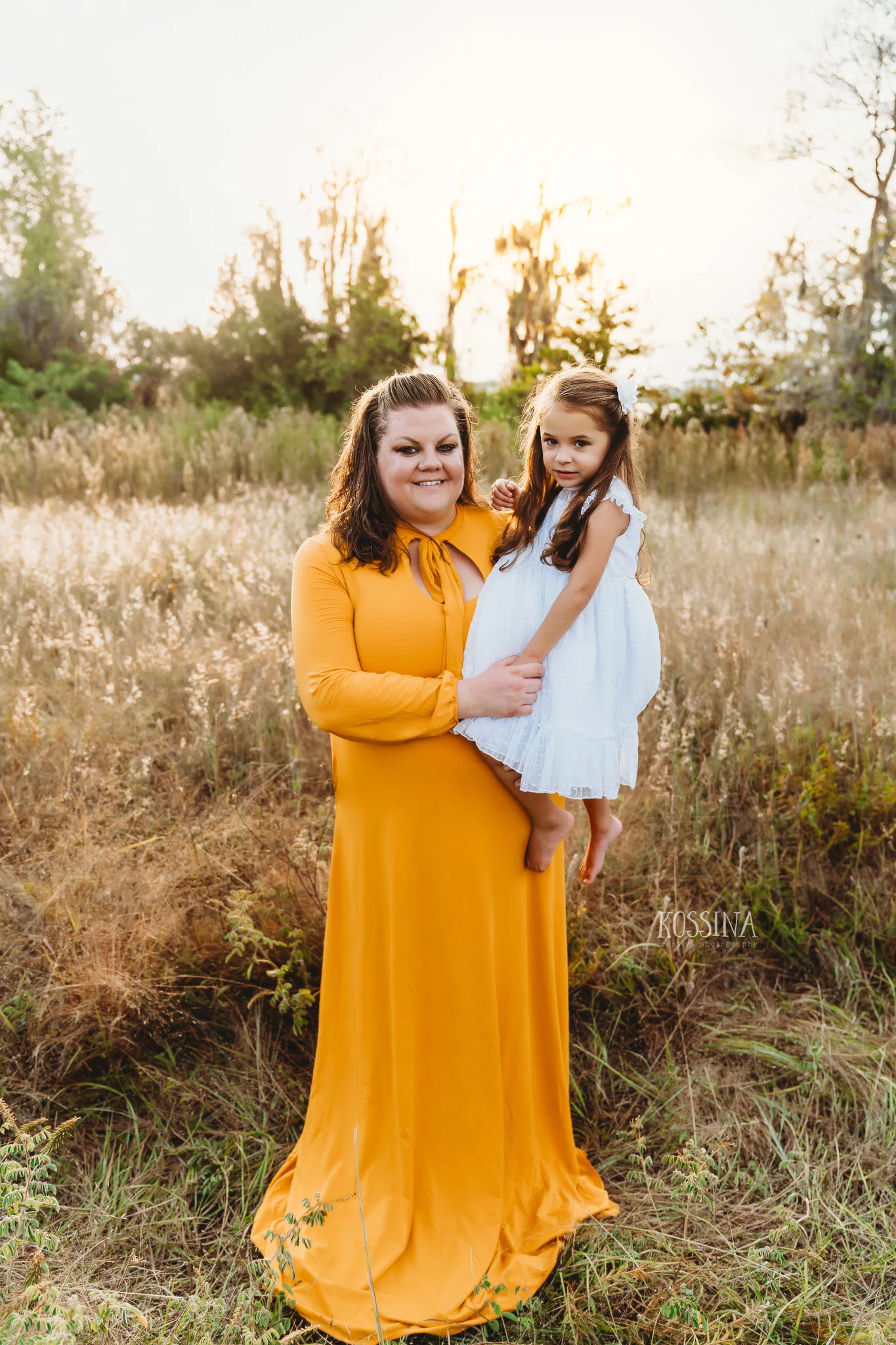 Meet Shelby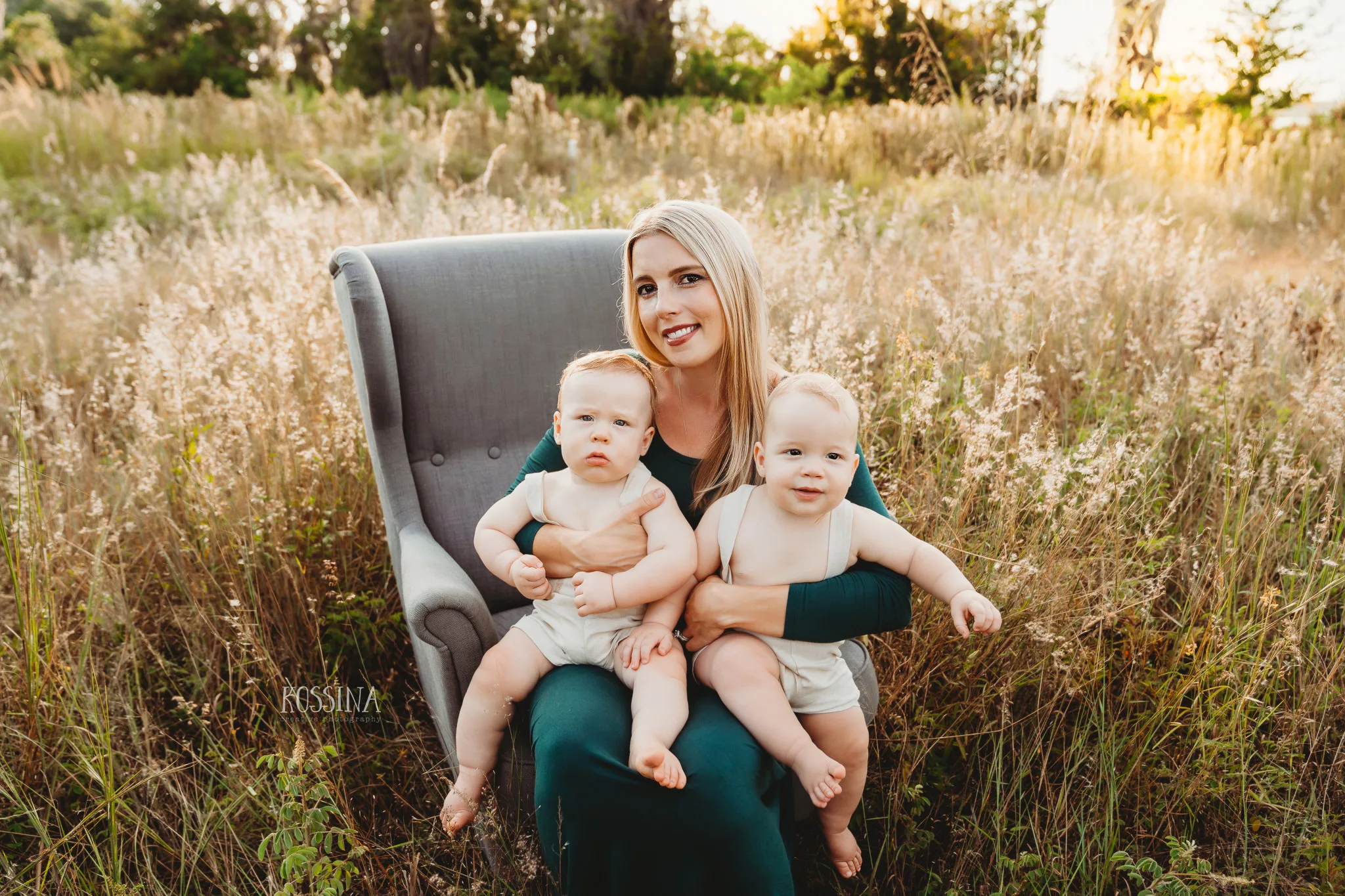 Shelby, I met a few years ago when I did her family session with her oldest son, who at the time was just over a year old. We kept in touch for a few years, but it wasn't until I had done her newborn session for her twins that I found out that she had lost her baby boy Edward before conceiving her twins.
One thing that really resonated with me, was the memento that she holds on to for her son. It's a ring that she wears with her son Edward's name inscribed in the middle.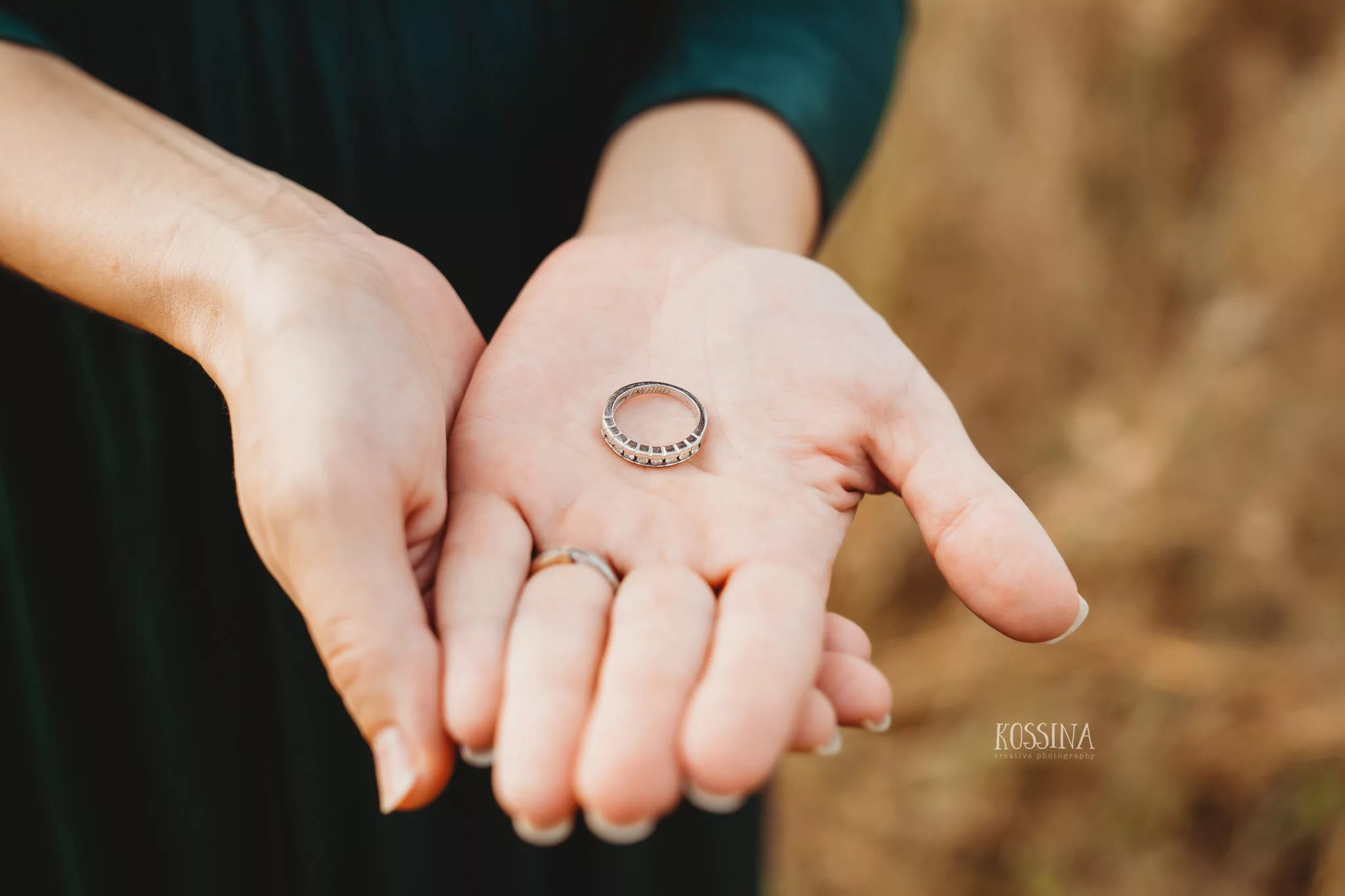 Here's Shelby's story:
When I found out I was pregnant, we announced it to close family and friends right away. To our surprise, we found out we were having twins! We were all so excited but also nervous, because twins carry a lot of risks such as preterm labor, gestational diabetes, and IUGR. Luckily, we ended up with a pretty much complication-free pregnancy.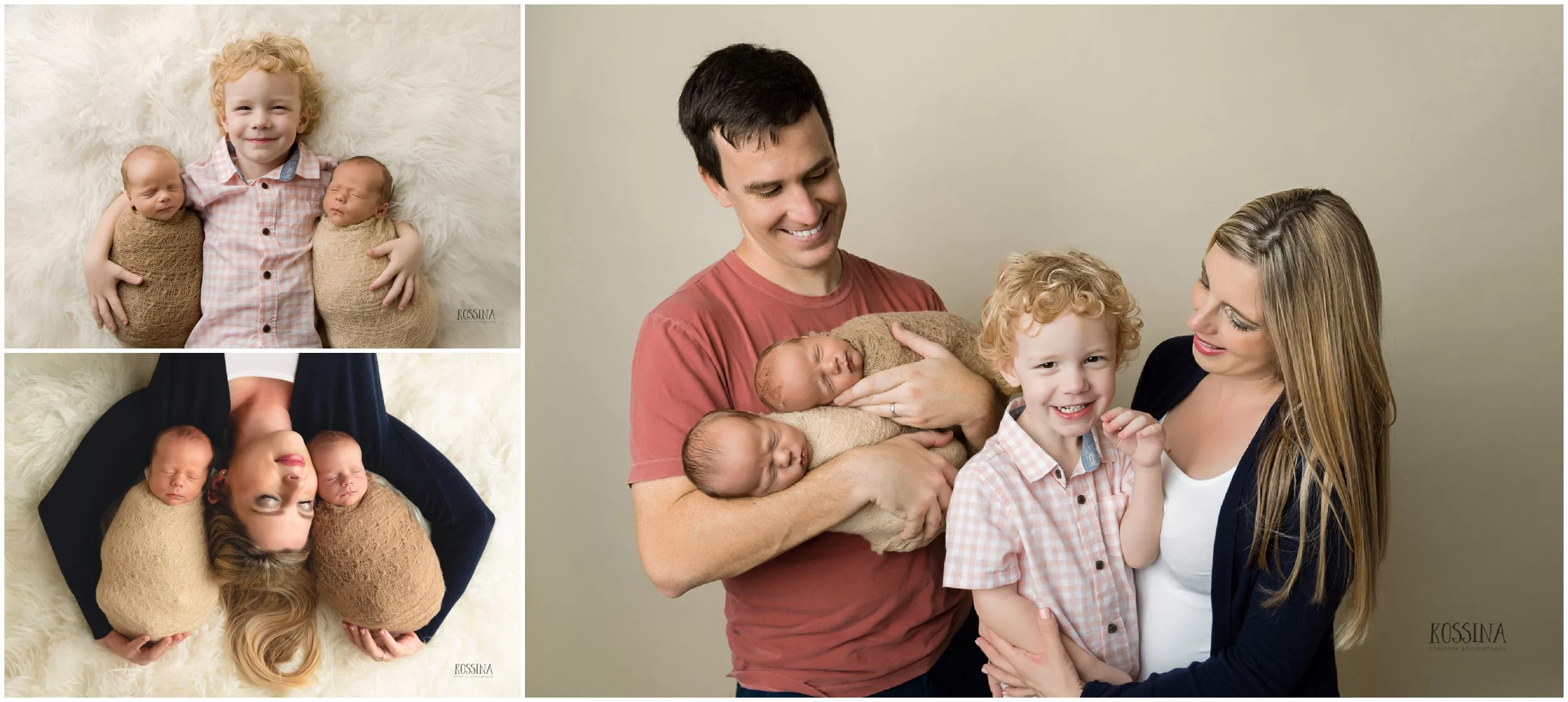 We held a gender reveal with two cakes, and I was shocked to see that they were both blue, as I already have a singleton son. The boys are now eight months and look and act completely different. Watching them hit milestones and learn new things is amazing. One wants to crawl everywhere and the other is content sitting back and "talking" to people.
It's hard to be the 1 in 4. We lost our son Edward when he was 10.5 weeks. Our loss was considered a chromosomal mishap. Something didn't divide right, and there was nothing we could have done to prevent it. My type of miscarriage makes your HcG and "feel good" hormones skyrocket. So when I had my D & C my levels crashed which made me feel lower than ever due not only to the psychological and emotional stress of it all but the biochemical one too.
It's hard to have something so rare happen to you because it makes you feel like you're the only one going through it. The truth is you're not. There's a national mental health line that you can call when you are in a crisis that I used a few times. I found an online support group for women who had experienced the rare type of miscarriage I had and these strangers on the internet are a Godsend.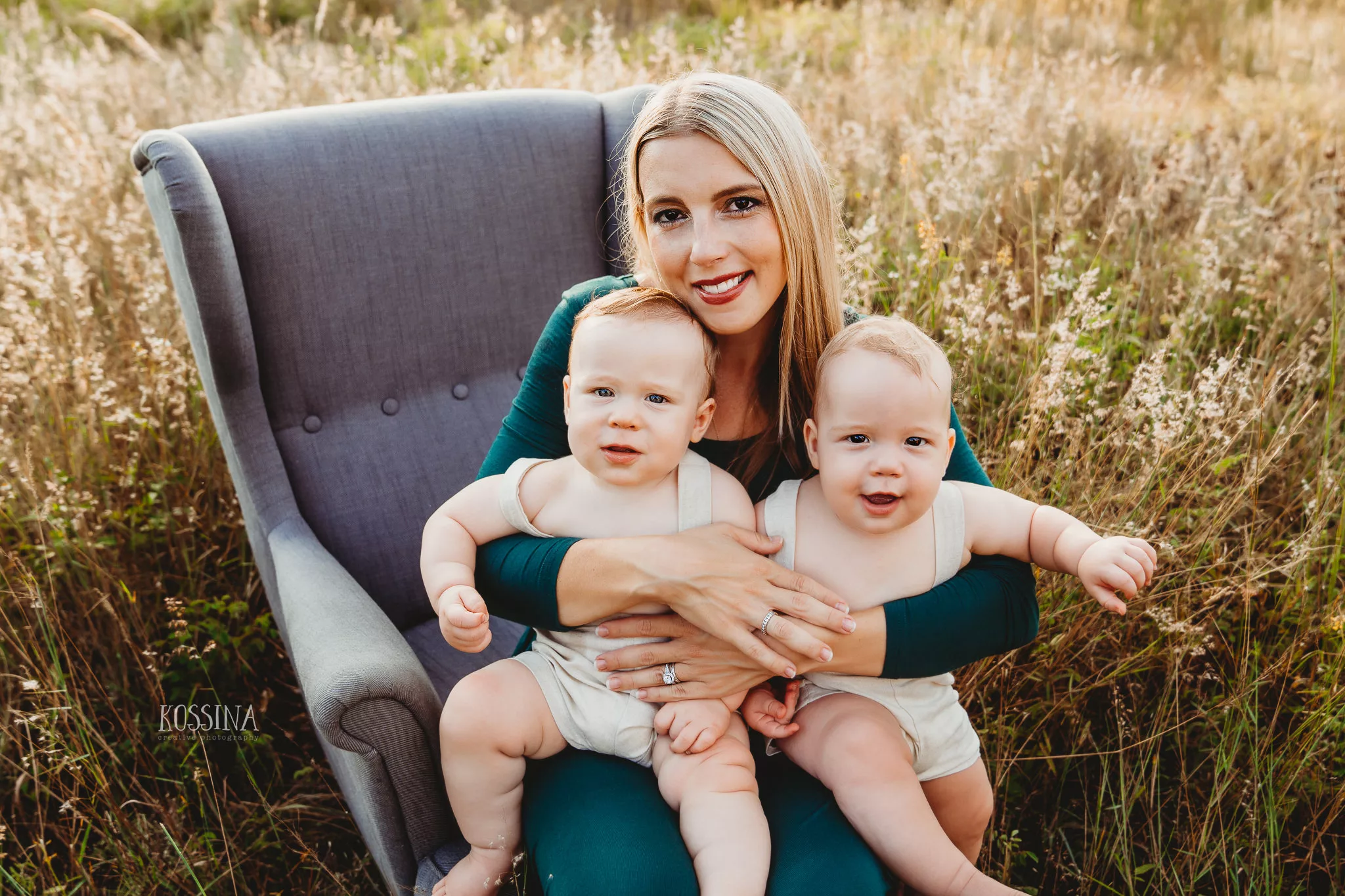 Meet Meghan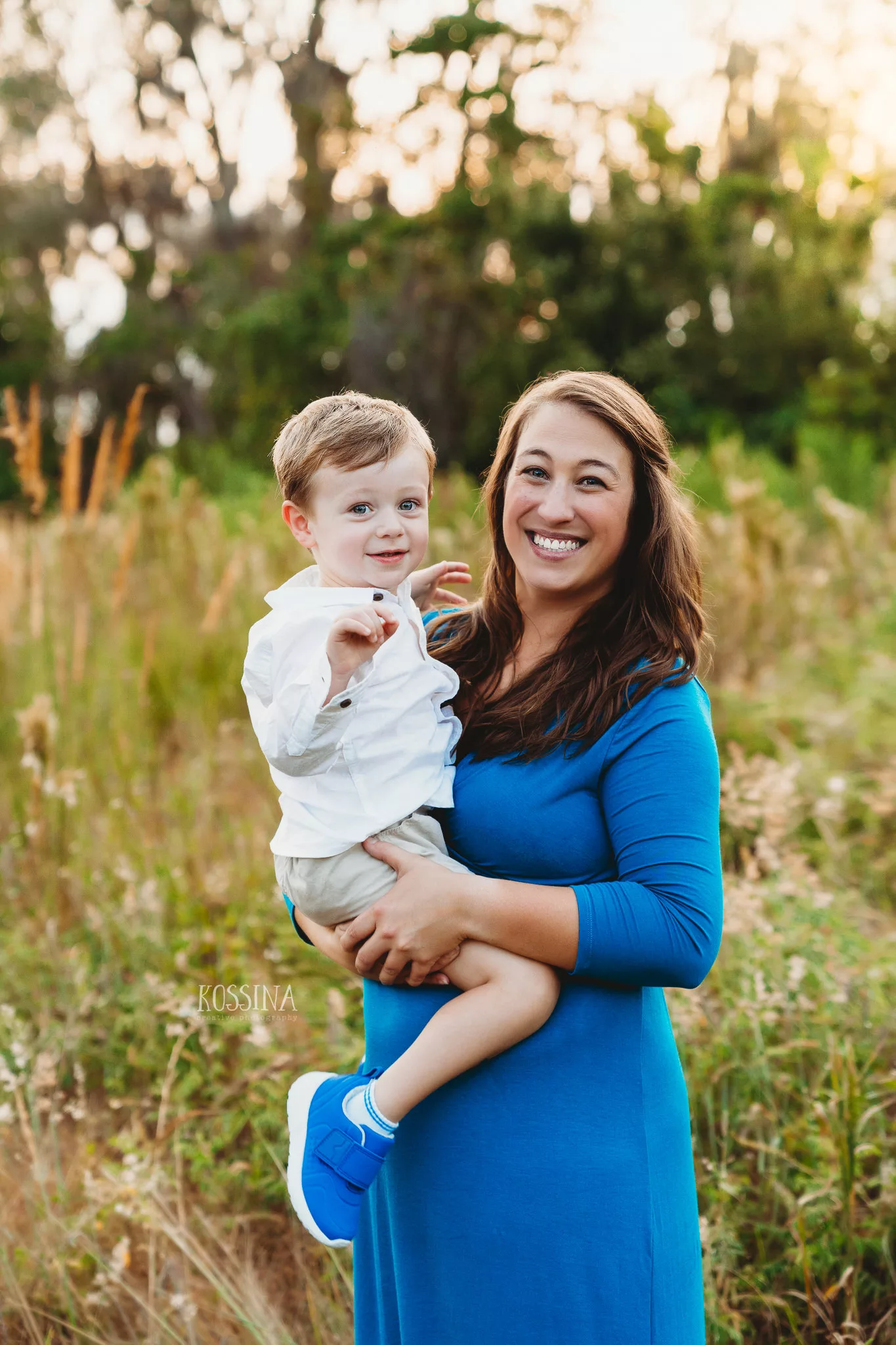 I originally met Meghan in high school although she was a busy bee so I didn't see her a whole lot. She is currently the glue that holds me together, some of you may know her as my administrative assistant. I didn't realize her son Mason was her rainbow baby until we started talking about this passion project.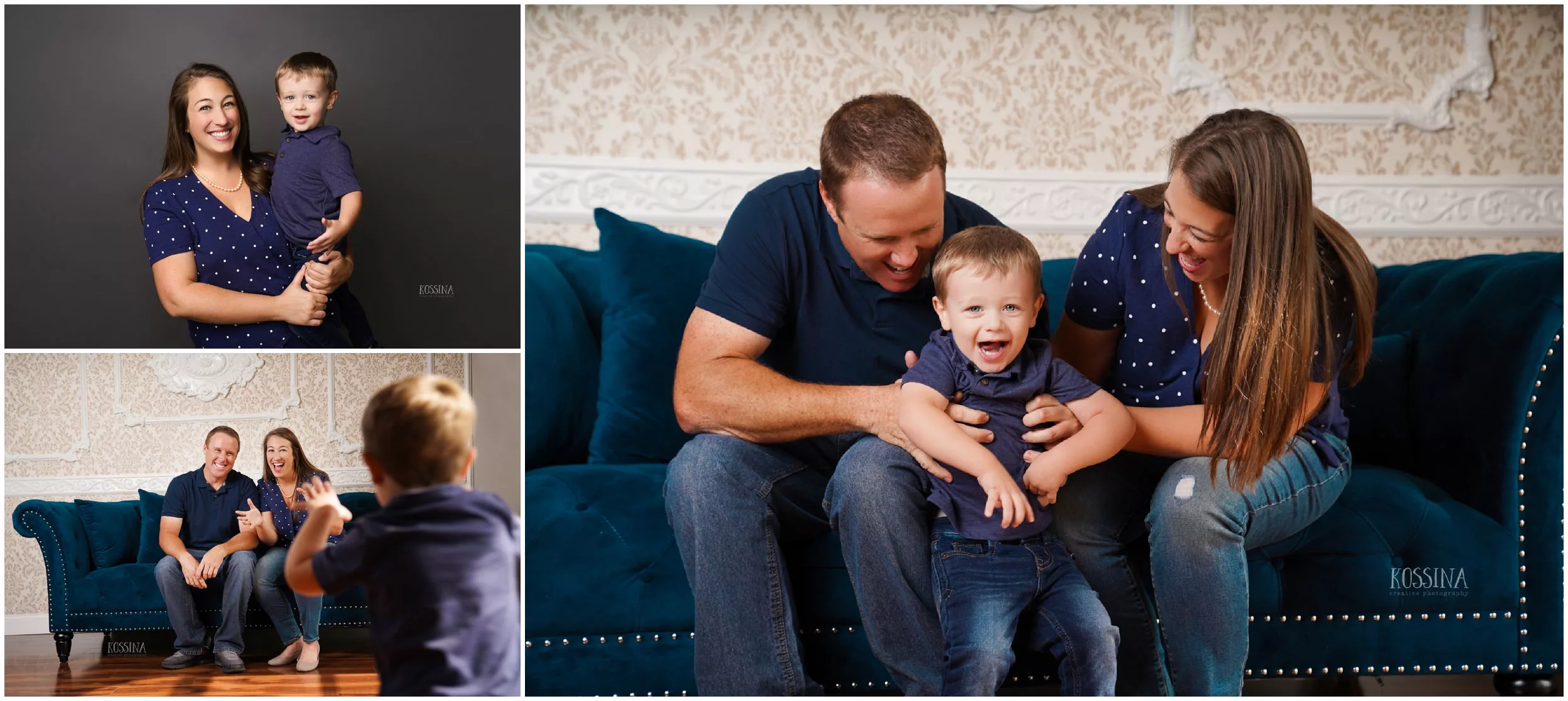 Here's Meghan's story:
I was diagnosed as a teenager with endometriosis and ovarian cysts. I had multiple surgeries over the years to remove the cysts and even had my uterus scraped. However, I was told that my chances of having children were very slim. So imagine my surprise when I found out I was pregnant. I had so wanted the title of mother my whole life so I was over the moon excited. My boyfriend at the time told me he didn't want children and even went as far as to ask me to have an abortion. That wasn't happening. I had prayed for this baby for so long, I wasn't going to lose my chance to be a mom. I was 2 months and 10 days along when I lost my first child. I never found out their gender, but oh how I loved them.
I came home from the hospital and for the next few days writhed in pain, physically and emotionally as I suffered through the biggest loss of my life. The man who I loved at the time, wasn't as supportive as I had hoped. I didn't tell anyone in my family what had happened. Not for years. I kept it very private, and only a handful of people knew. The biggest lesson I learned was not to hold on to your pain. Be brave enough to tell your story, be brave enough to be vulnerable, and above all be hopeful. Never lose hope. You deserve a happy ending, and happy endings always start with hope.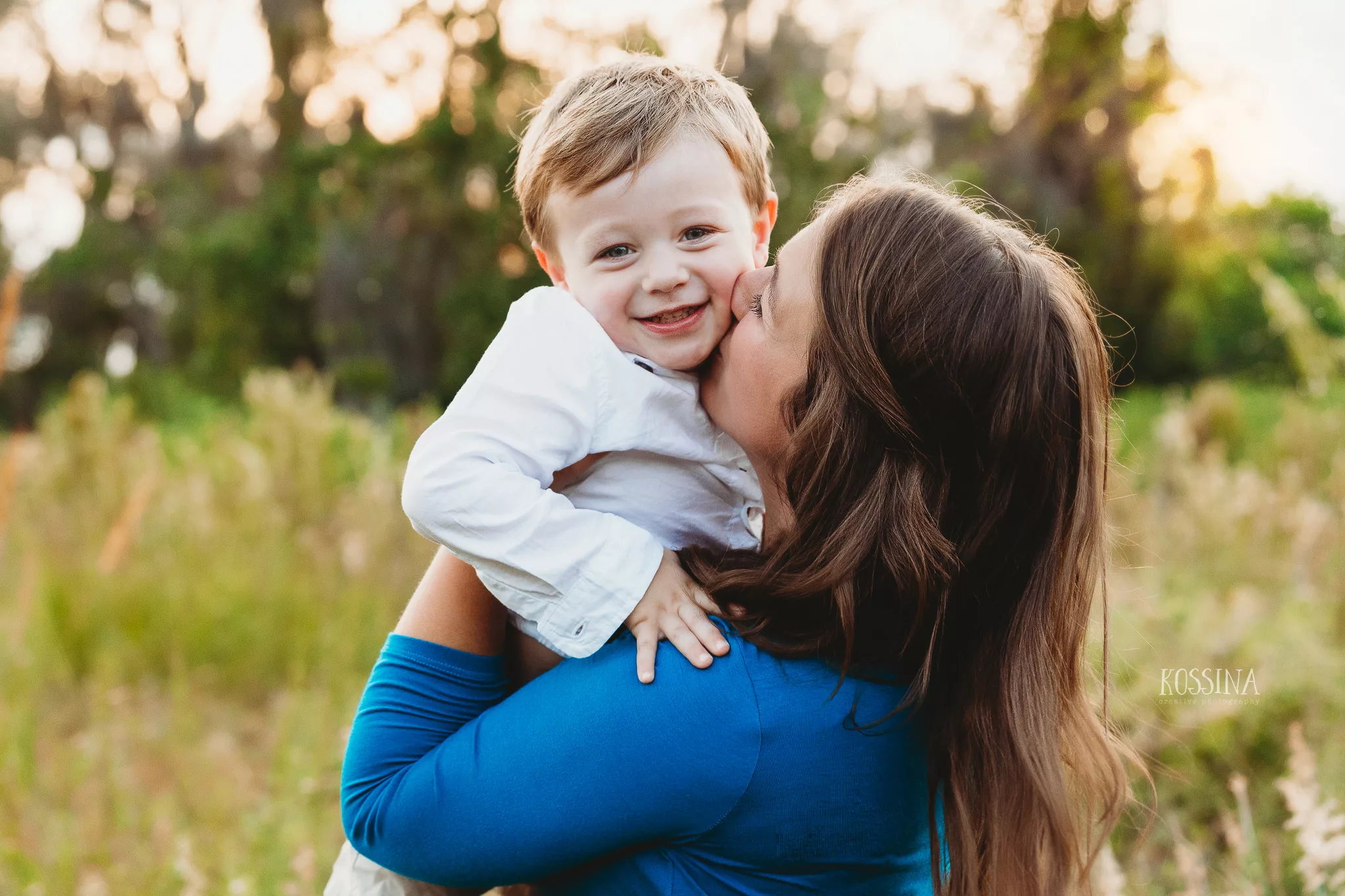 Many years later, I found out I was pregnant with my rainbow baby on Mother's Day of all days. I was actually at a friend's house babysitting her two little ones. On my way there, I just had this feeling. I can't describe it but something told me to pick up a test. So I did. The next morning I told my hubby-to-be Matthew that I had taken a test at school—we were both in college at the time—and that I got positive marks from my teacher. It took him a minute, but his face was priceless and he was so excited to be a dad. Matthew for me was my beacon of hope. He told me not to worry, that things would work out, and I believed him.
Our rainbow baby is Mason. He will be three in January and he is seriously the coolest kid on the planet. He has the best personality. So goofy and loving, he lights up our world. Matthew and I have been together for almost eight years. He looks just like his father, but we're often told that he has my eyes. We've accomplished many things, but Mason by far is the greatest accomplishment of our lives. Sundays in our house usually involve sticky buns, watching old cartoons and building forts.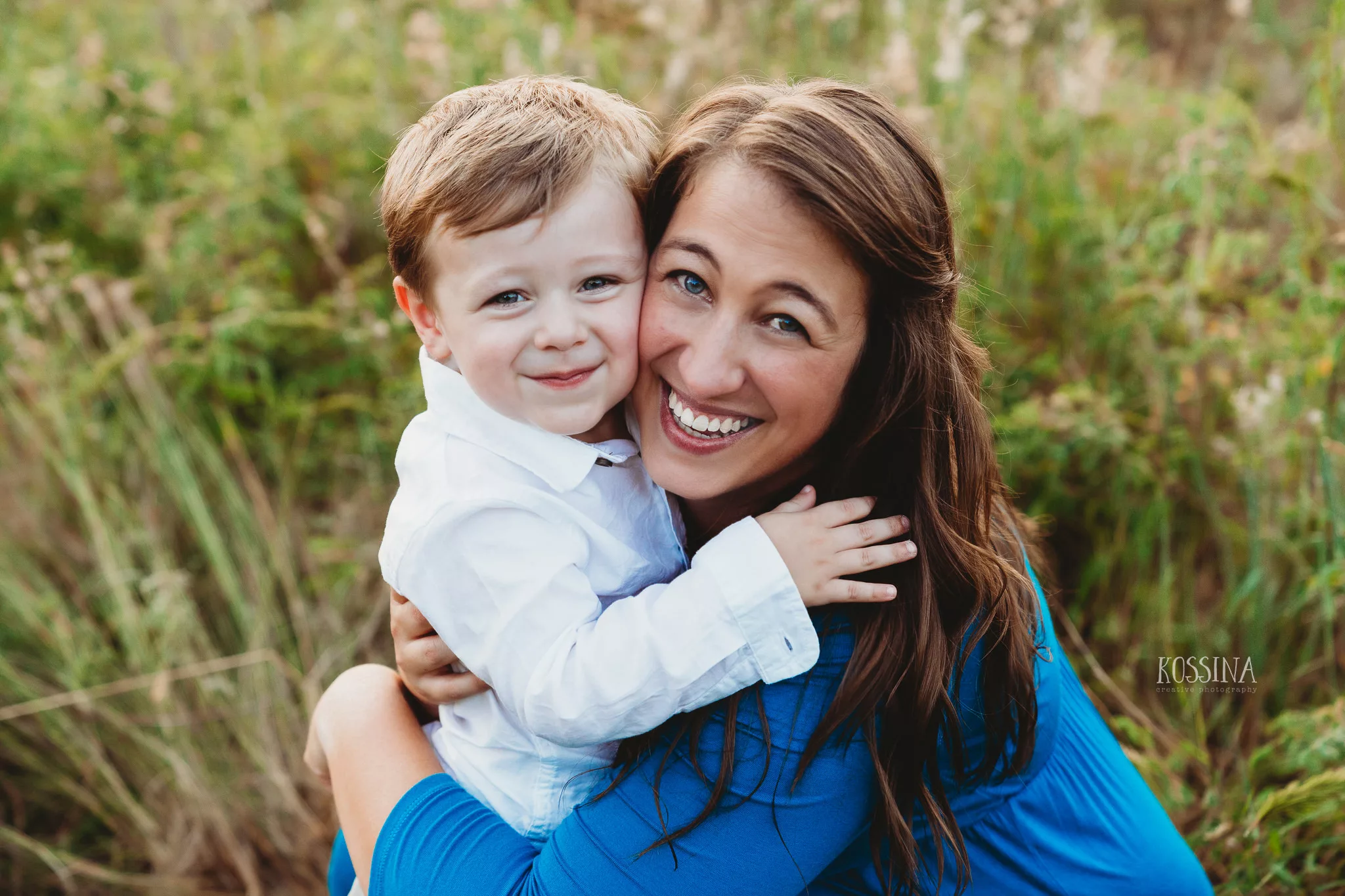 I love every single aspect of being a mom. This was something that I never thought would happen. I know how lucky I am to have this opportunity to be Mason's mom. I also know that not everyone has gifted this opportunity. I treasure each moment of my time with him because I know that time is fleeting. I will forever cherish every mom snuggle, belly laugh and experience of this incredibly rewarding journey.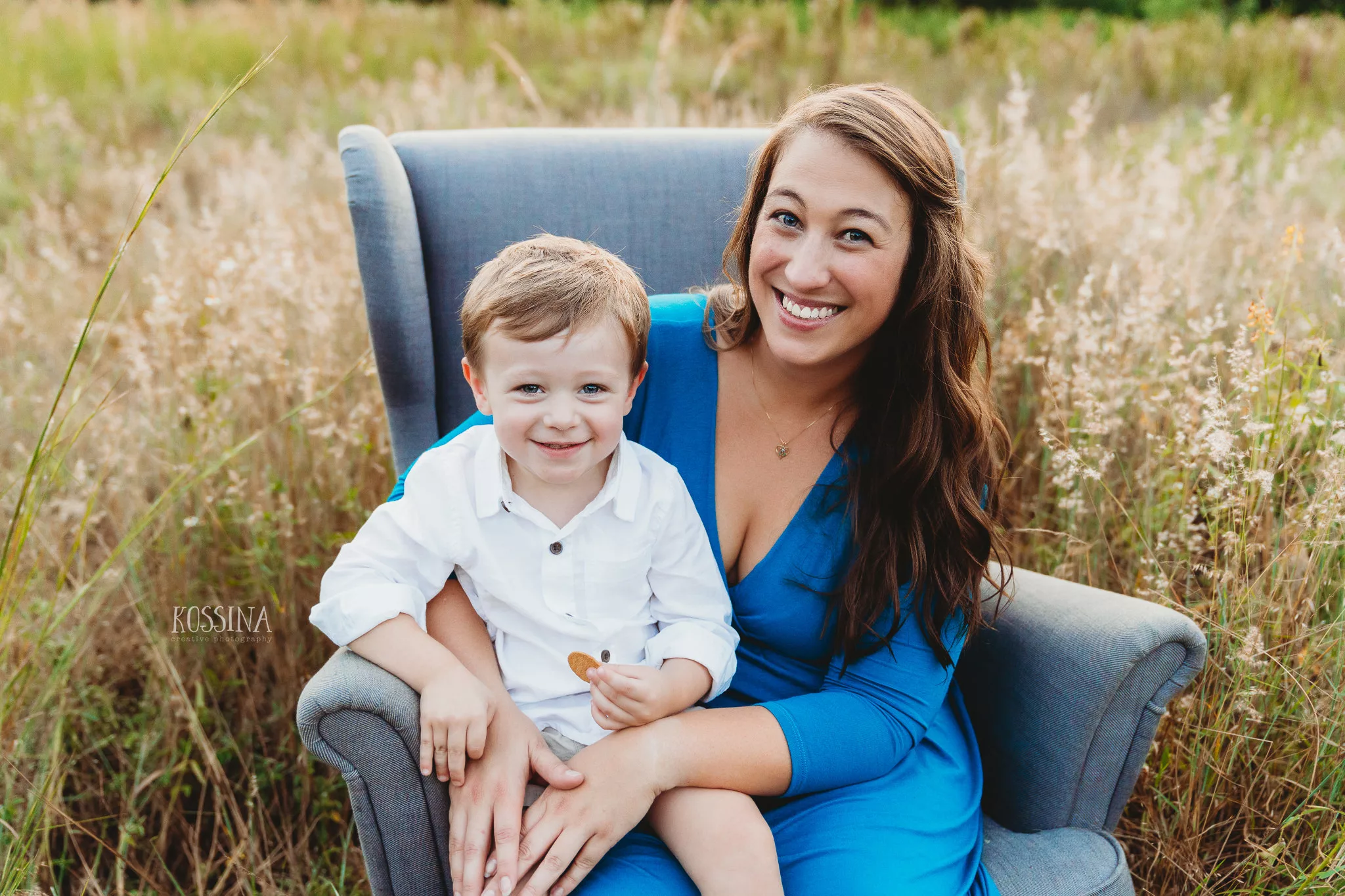 Meet Katrina
I met Katrina through mutual friends and clients. She contacted me for a newborn session for her son Rylan. Her newborn session is one of my most impactful rainbow baby sessions because she had told me about her son Bryson that she lost and the journey of the fertility treatments she had undergone to conceive Rylan. She brought an entire box full of empty syringes from her IVF treatments, as well as a bunch of toy trucks in different colors. The trucks were significant because her husband works in construction, in the photos you can see how these two parents "built" their newest addition.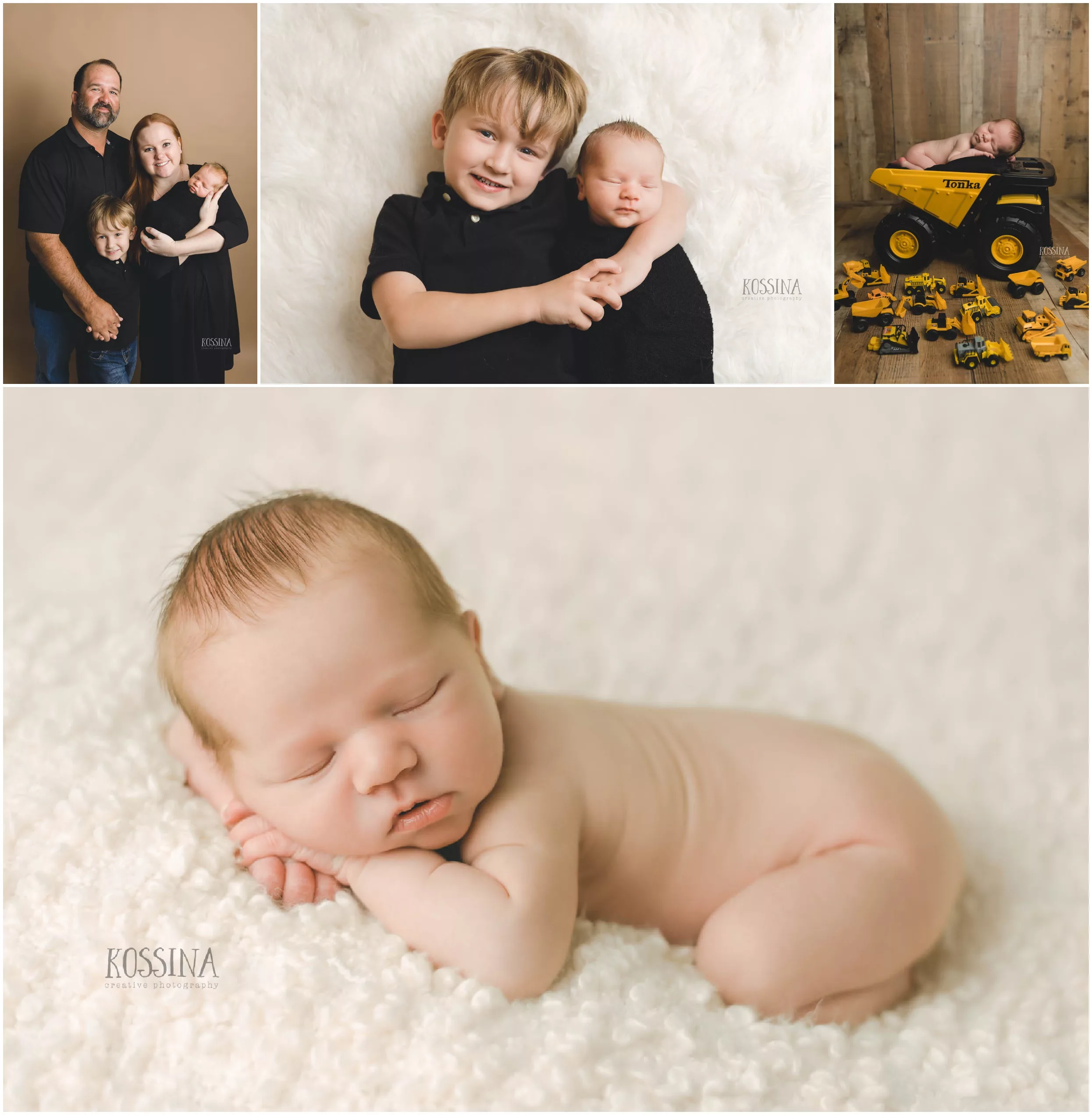 Here's Katrina's story:
I have been pregnant four times, and I have two rainbow babies. Our first pregnancy, we made a cute photo announcement and shared the news with our family and close friends. A few weeks later, we miscarried at around eight weeks. In our second pregnancy, Jensen, who is now five, we were more cautious to tell people. In our third pregnancy, Bryson, we waited until about 18 weeks to formally announce our pregnancy. All was going well, he was growing and when I went for my regular checkup at 24 weeks we found out that he no longer had a heartbeat. For our fourth pregnancy, Rylan who is now one, our immediate family and close friends knew but we didn't announce anything officially until after he was born.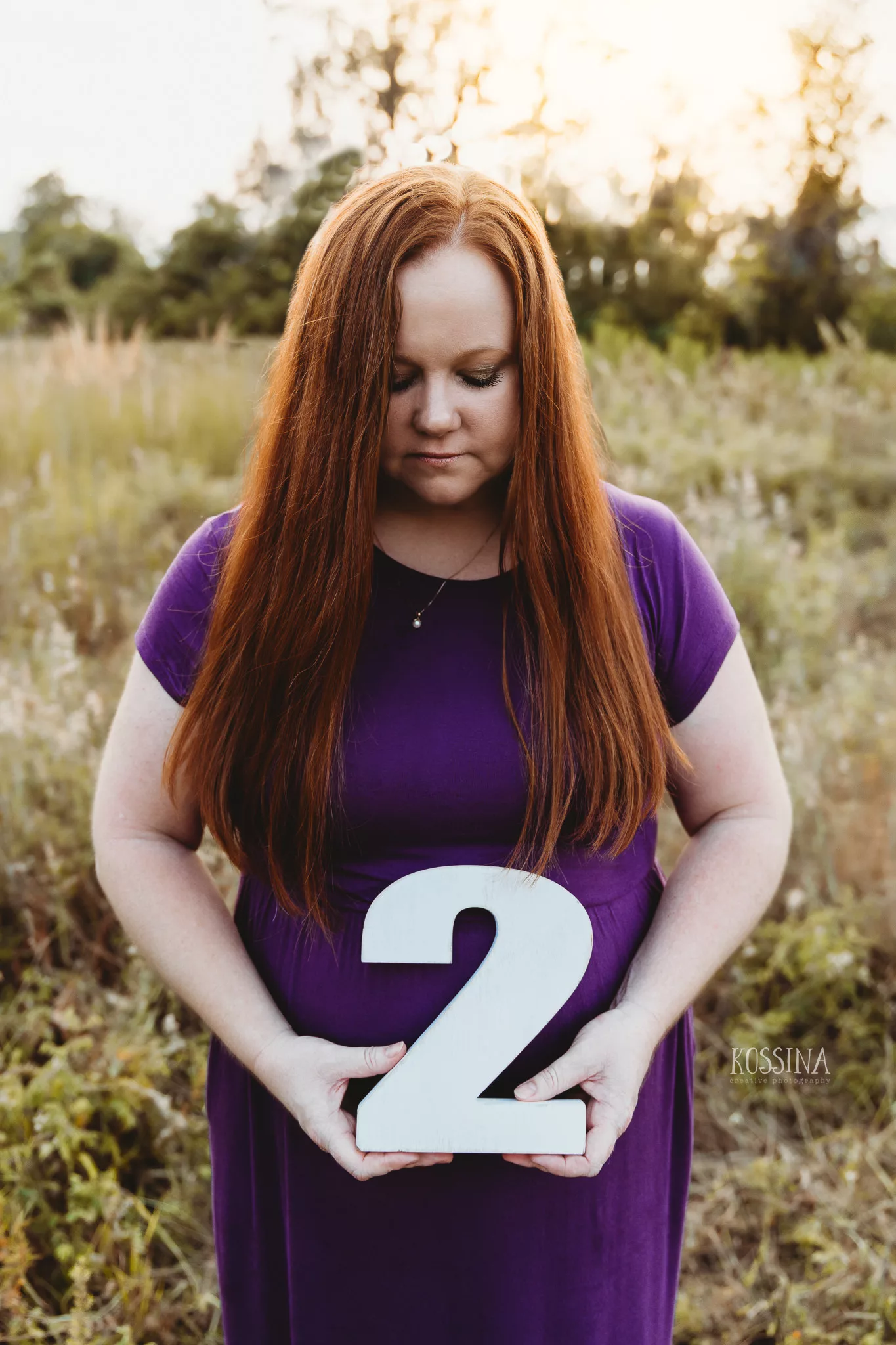 After Bryson was delivered it was determined that it was a cord accident. I also found out that I had a blood disorder that requires blood thinners with high-risk pregnancy medical situations. After our second loss, we struggled to conceive and were considered high risk because of my prior pregnancies and newfound blood disorder issue. We visited a local fertility clinic, CRM, and after months of trying and IUI treatments we had a positive pregnancy test.
It takes time to heal. It's hard, but stay positive. Think of how you want to cope with your loss and ask your family and friends to support you. Have a "spokesperson" to speak on your behalf. My friend was able to communicate for me at work before my first day back. I joined a baby loss community that introduced me to a few organizations that have helped me and I have referred others to. Now I Lay Me Down to Sleep came to the hospital and took pictures for us after I delivered Bryson. I keep the pictures in my memory box. While I didn't use them directly after our loss, we have raised funds for The Tears Foundation annually at their Orlando Rock and Walk event. We have also recently started to have some involvement in The Finley Project, which is local to Orlando and we are looking forward to participating in fundraising for years to come.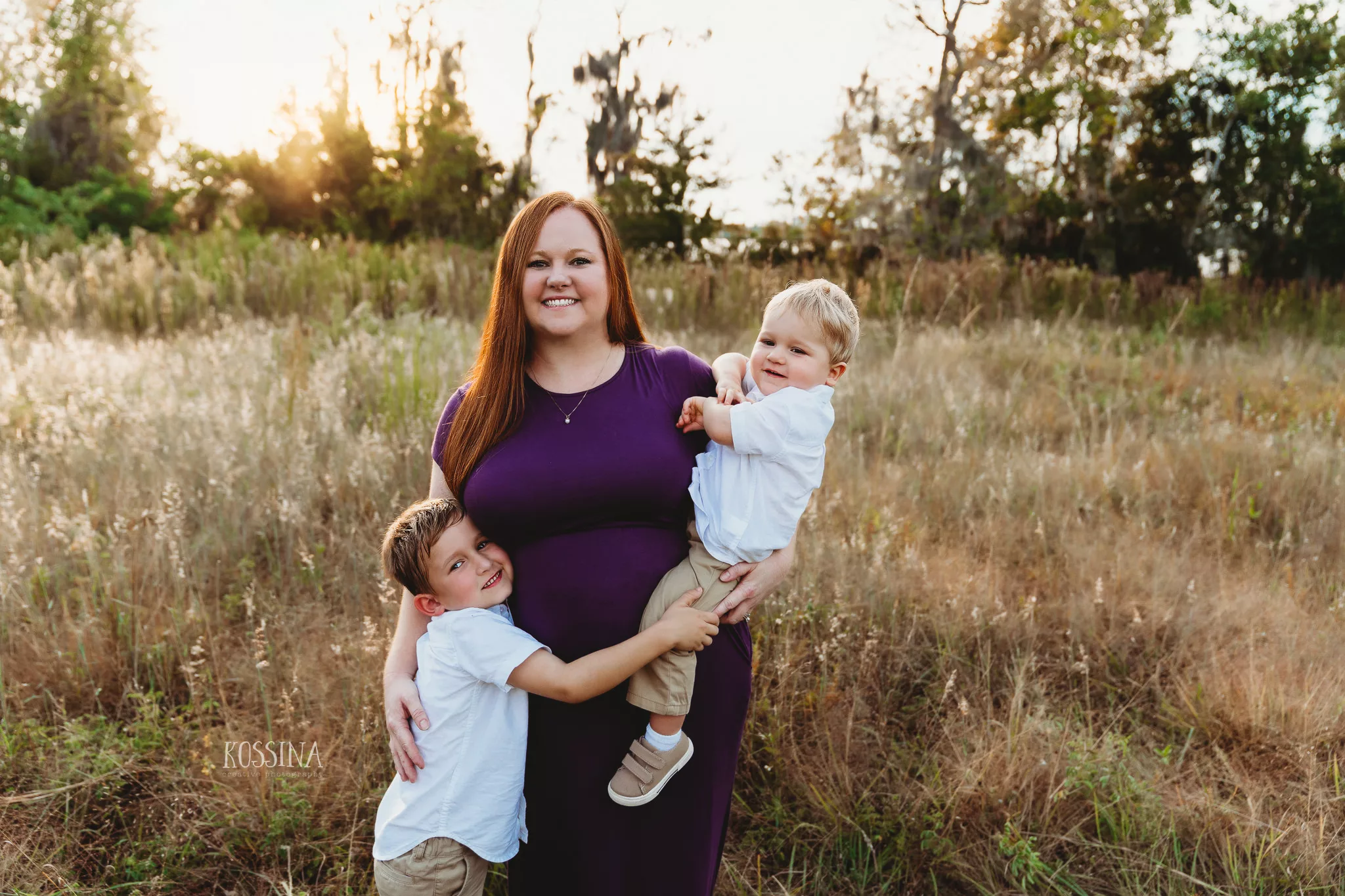 I love watching my two boys learn and grow. Jensen is full speed ahead all the time and loves animals. As for Rylan, he is following right in his big brother's footsteps and starting to develop his own wonderful personality. He is walking and climbing on everything right now. When I'm outside playing with them and I see a cardinal or a butterfly, I think of my angel babies. I didn't think I was in a strong place when this happened to me, but looking back at it now I realize how incredibly strong I actually was.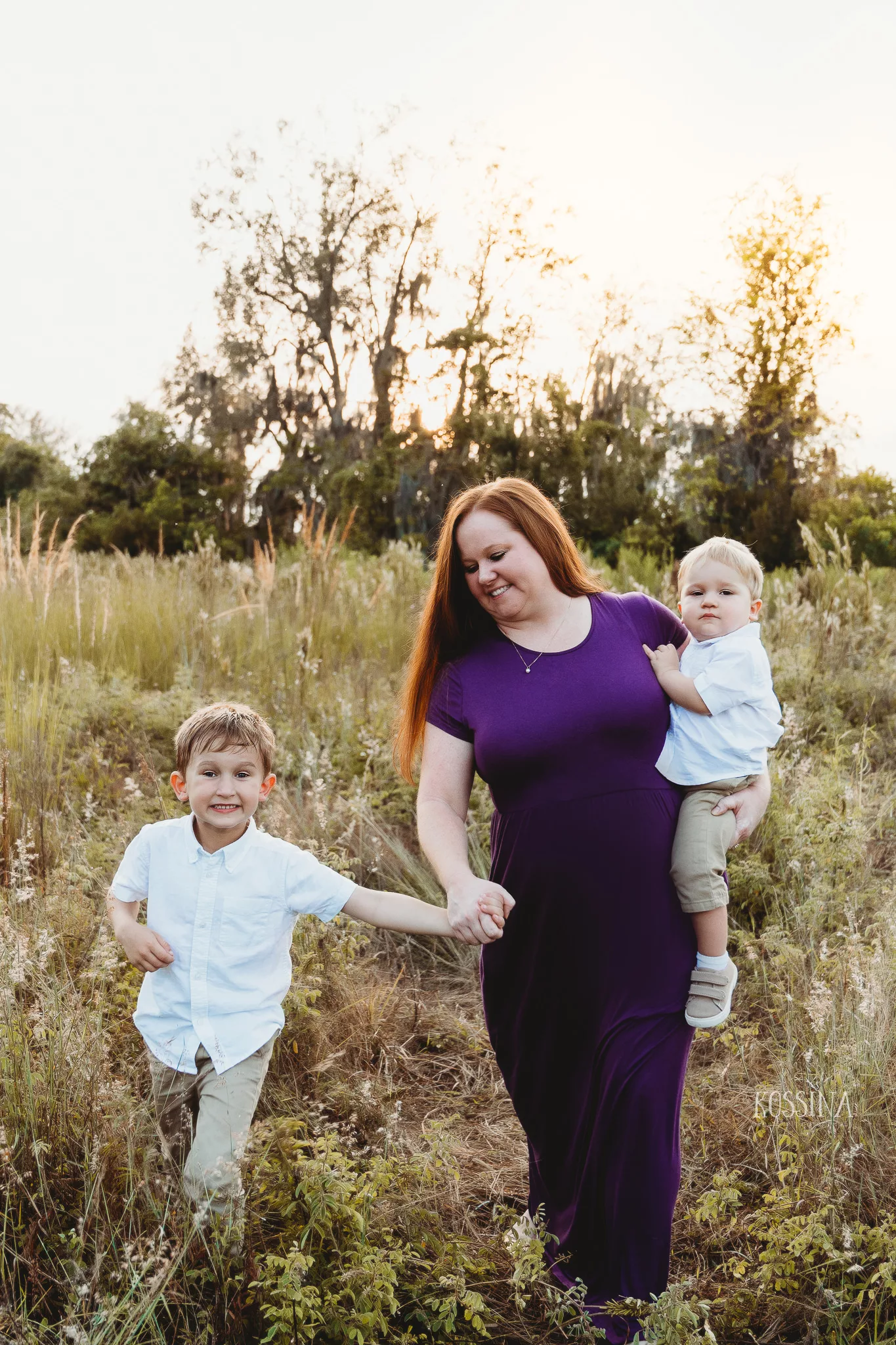 The women in these photos have been through so much and they seriously amazed me while taking these images. Behind the camera, I watched as these incredibly strong women, who endured the ultimate loss, bounce, and kiss and love their children.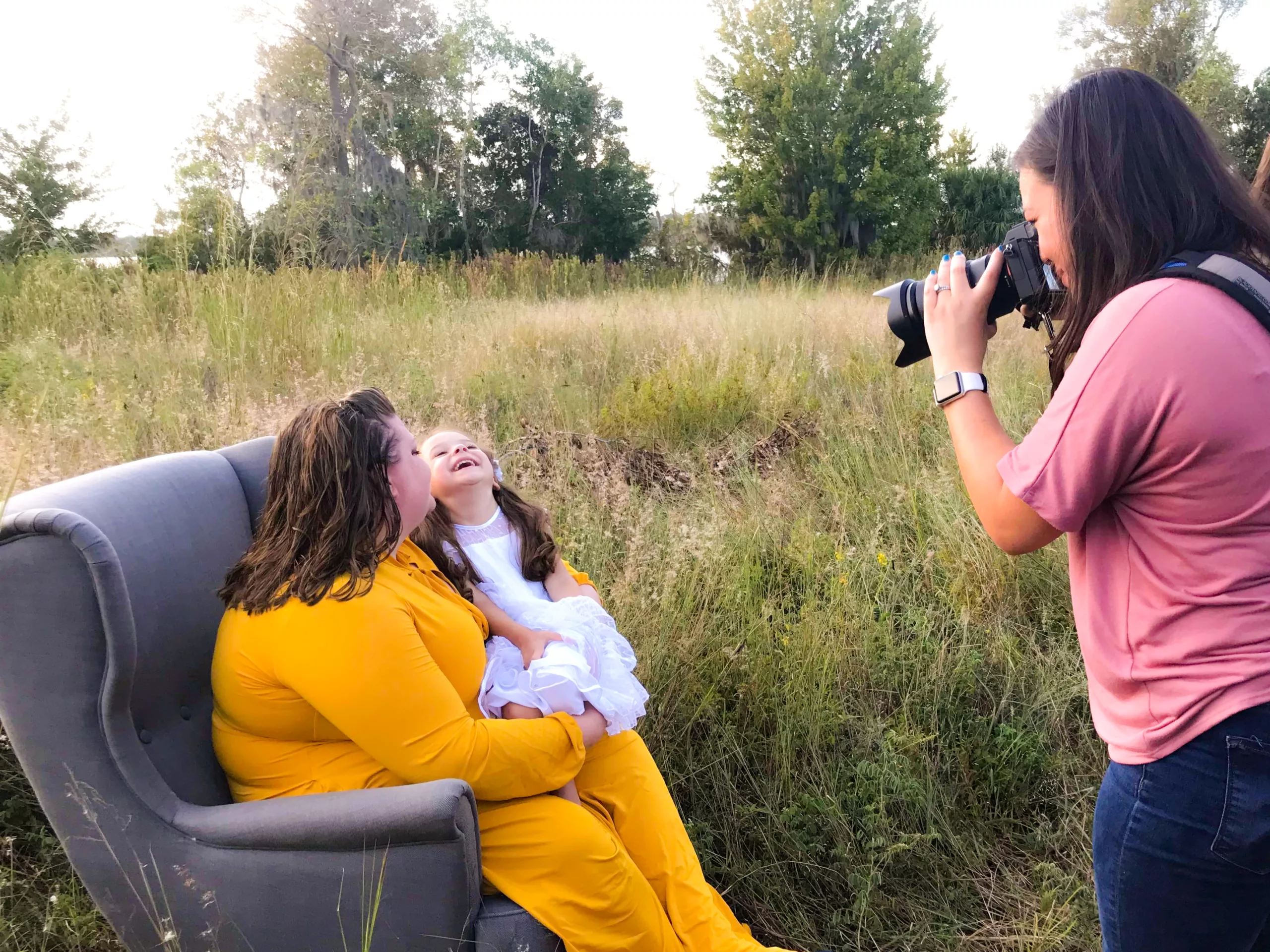 Over the years more people are telling their story more and more and continuing the conversation. Even as I edited the photos for this session I was listening to Jenna Kutcher's podcast Goal Digger. In this particular episode, she brings up her own loss as a mother. One of the things she said that stood out to me was, "miscarriage is a loss of a dream and a loss of a possibility. It steals your joy for the future."
I know for these women they carry that weight with them every single day. While I was taking pictures that day, Meghan pointed out that there was a rainbow behind them. What are the chances of that? My hope here is to spread awareness by sharing these stories and letting other women know that they are not alone. I am incredibly thankful to these women for sharing their stories and gifting me the opportunity to capture these memories for them.